Dodge Mountain House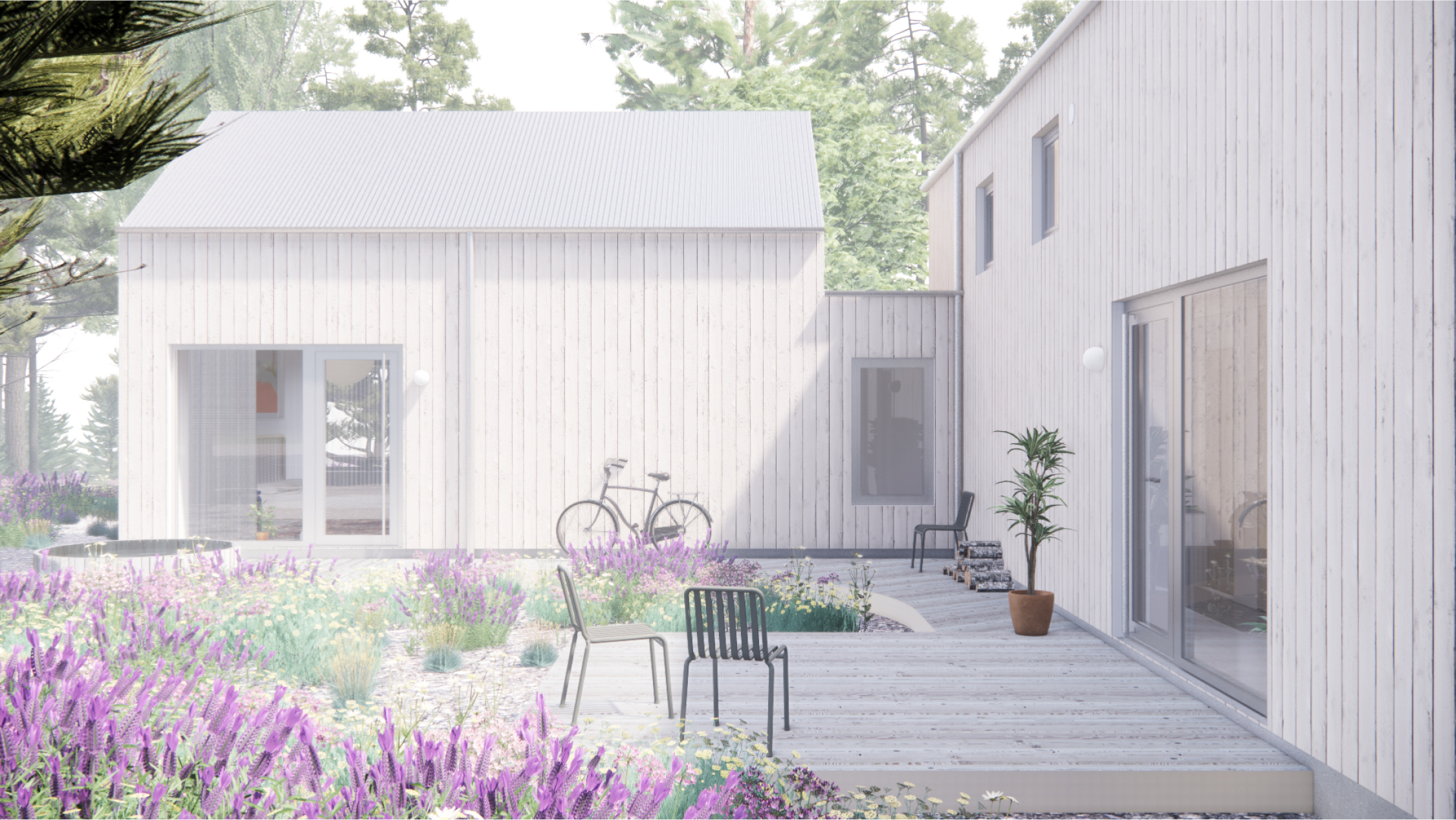 A carbon smart house in rural Maine made of straw
Our client­—a young couple with plans for children­—wanted a modestly-sized, high-performance, modern house.

They purchased a forested plot with distant ocean views, and reached out to us with a vision for a multi-volume house inspired by—Croft founder, frequent collaborator, and good friend—Andrew Frederick's nearby home.

Our aim was to internalize the lessons of Andrew's house and, if we could, build upon them for a family with different needs and site constraints.

The design is composed of two gabled volumes set perpendicularly to each other: one houses the primary bed & bath, and one houses the main living spaces on the first floor & the children's bedrooms above. They are stitched together by a mudroom, which provides a transitional space and simplifies construction.

The L-shaped house is entered at the outer elbow; the junction between the volumes
The entry porch takes advantage of the morning sun
First floor; from top left to bottom right:
Primary bed & bath
Mudroom / entry
Family & guest bath
Under-stair laundry & utility
Pantry
Kitchen
Living Space
The upstairs houses two additional bedrooms and a storage loft above the primary bath
The house form creates a protected courtyard, which faces the distant ocean views

The kitchen & living space is connected to the inner courtyard through generous windows & a large door
A window at the sink increases counterspace, brings in light, and is a killer spot for bird-watching
The ceiling height - driven by the upstairs bedrooms - makes the modest living room feel spacious
The hall (left) creates a distinction between the social and private spaces of the house while doubling as an excellent art gallery
A window / door pair on the inner courtyard side of the primary bedroom makes it feel like you're sleeping outside
A view from the storage loft to the primary bed
The entry hall to the primary bed provides the homeowner with an additional layer of privacy
The cedar decking changes orientation as it wraps around the elbow. We get excited about simple moves that feel special without adding cost

Although the house only has a few openings, they are often located across from one another - like the kitchen, shown here - to give the space an airy feel
Locating windows at the corners simplifies prefab panelization and encourages light to bounce as it enters the home
Client
Private


Timeline

2023-


Status

Under Construction


Location

Rockland, Maine

Services

Architecture
Interior Design
Credits
Croft
,
Collaborator & Straw Panel Provider