House with a Curved Stair
Primary Projects + Chris Johnson


How do you modernize a traditional home on a budget?
In 2018, the client purchased an unfinished, lake-side house in the Berkshires. The house had been framed and clad in 2006, but had sat empty and unfinished for over ten years. At the time of purchase, the house was a shell with no interior walls, no plumbing, no heating, and no electricity.
An Abandoned House

From the Real Estate Posting: "This is a really intriguing property. The shell of the house, deck, roof, electric and foundation were done circa 2006. And then the work slowed...or stopped...[A] septic needs to be installed along with the plumbing, walls, kitchen and bathroom."

Challenge
In the existing condition, you could only access the third floor through the primary bedroom...
Solution
We discovered that a switchback stair with a curved landing would:
Allow direct access to the third floor
Increase the size of the adjacent bedrooms
Preserve the existing window locations
Create new storage opportunities
Second Floor Plan
The curved landing seen from below...
...and above
The placement of the stair allowed the owner to preserve an existing window in their bedroom
The stair creates a cozy reading nook in the nursery
A section through the curved stair
Challenge
In the existing condition, the third floor was meant to be used as an attic. The ceilings were too low and there were no views to the lake.
Solution
Adding four dormers and raising the collar ties:
Creates two useable bedrooms with adequate ceiling heights




Opens up the views to the lake




Adds light & allows for cross ventilation
Third Floor Plan
The new dormers in the upstairs bedrooms open up direct views to the lake...
...they're also a cozy spot for reading
From the outside, the new dormers echo the simple form of the existing house
A section through the new dormers
Challenge

The first floor couldn't comfortably accommodate a generous living room and a traditional dining space.

Solution

We worked with the owner to create a 13- foot long island that comfortably seats seven, and combines additional storage with face-to-face dining on the lake-side


The island seats seven while providing storage & prep space
Directly across from the island, we reused a large window the owner found in the basement to open up a new view to the lake
The bent-metal awning at the entry provides a respite from the elements as you enter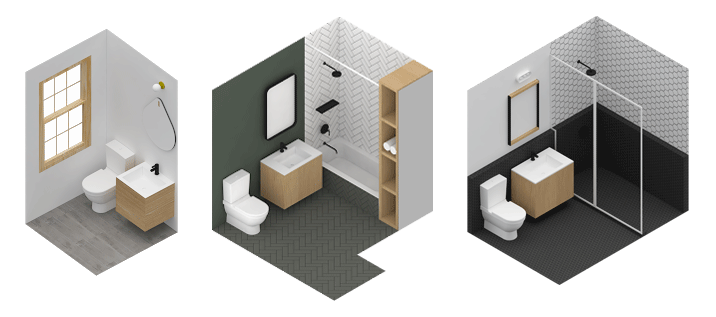 We worked with the owner on the design, finish, and fixture selections for the house's four bathrooms
The primary bath's shower includes a shelf at waist height
The owners asked for a few budget-friendly ways to modernize the house. We suggested the following...
Paint the house with dark colors—dark green with black trim—to mask traditional details that couldn't easily be removed
Remove the decorative shutters & divided lites from the windows
Ensure that the new features—the dormers & the porch—complement the existing house's simple gabled form
Client

Private


Timeline

2019-2020


Status

Built