Straw House


A foam-free accessory dwelling unit (ADU) designed to passive house standards
Because of the embodied carbon in foam, conventional passive houses have a larger carbon footprint than conventional code-compliant buildings.
Bummer
. So, what would a passive house without foam look like? How could we make it easy to build, as affordable as possible, contextually appropriate, and nice to look at?
Meet
Straw House
.
Straw House's
envelope is made of
Croft's
pre-fabricated, carbon-sequestering, foam-free building panels. The panels use super-compressed straw as insulation to create an R40 wall assembly (which is really good!).
Gray = R40 Pre-Fabricated Carbon-Negative
Croft
Panels (Double stud with compressed straw insulation)
The interior is lined with plywood instead of drywall; replacing a finite resource with a renewable one while adding warmth
332 square feet of cozy living space. We're partial to the kitchen island / banquette hybrid which serves as prep counter, work bar, storage beast, and snooze center.
⁠
We care about nerdy things like: "How can we make foundations as cost-effective & easy to build as possible?" For tiny homes like Straw House, you can use a "slab on grade" to eliminate deep & expensive footings, as long as you insulate it correctly! We recommend something made of stone wool to reduce your carbon footprint.⁠

Pouring a concrete slab requires a lot of pre-planning. To simplify that, we've designed a crawlspace below the bathroom & behind the kitchen. This has the added benefit of shortening the runs from the water heater which saves energy!⁠
The building is clad in vertical wood siding finished with pine tar & a corrugated metal roof. If it makes you want to make out, that's cool.
One wall to rule them all! The storage wall in the living space: displays objects, hosts a flip-down work surface, hides the tv, separates the bedroom, and functions as a cat playground.⁠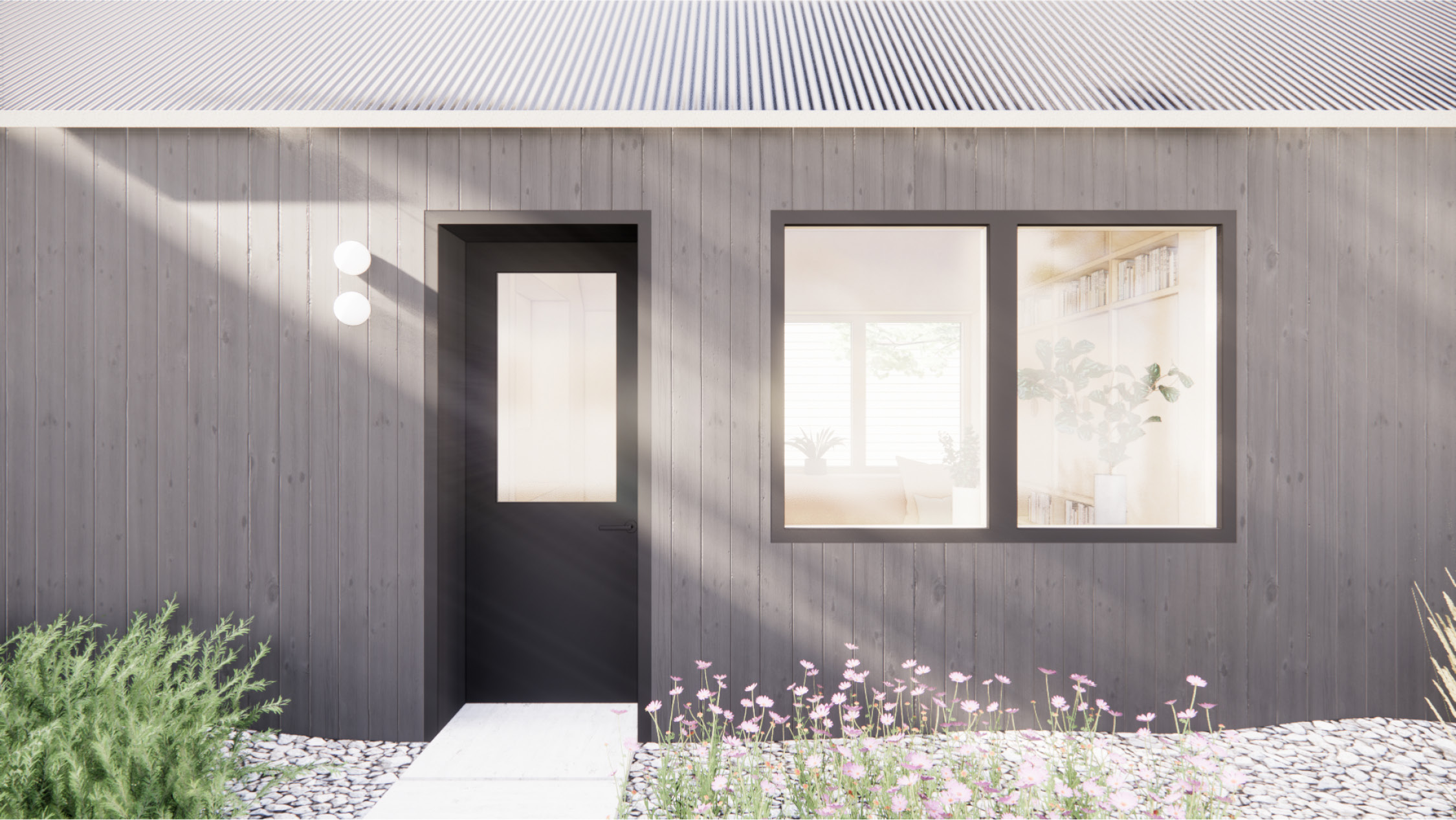 Ease of Construction / Affordability Features
The design has been optimized to the panel's 4'-0" x 8'-0" size.
A slab on grade foundation uses underslab & perimeter skirt rockwool insulation to prevent frost heave, saving on the most expensive part of most builds: deep foundations.
The crawl space beneath the bathroom makes site coordination easy. No complex utility coordination is required before pouring the slab.
The kitchen & bath are located next to one another: shortening the route to the water heater (saving energy) and consolidating the utility runs in the crawl space.
The openings are strategically located; the space feels airy, but only 7% of the envelope is glazed.
The same triple-glazed window is used throughout to simplify rough opening details.
Location

Portland, Maine
Services

Architecture
Interior Design
Furniture Selection
Credits
Croft

,

Collaborator & Straw Panel Provider



Related Work