We like sharing.
We have extensive experience designing for multi-generational families, co-ops, intentional communities, and the like.
(We've also done research, lectured, and taught on these topics!)
Tracking the growth of the average American Home against growing storage & credit, and shrinking families, yards & savings. From Store House, our research project on sharing in the suburbs. ︎︎︎ We're allergic to jargon.
We'll talk to you like that teacher you loved who made complex things sound simple.
We spell out acronyms and we'll never call a window an "
aperture
."
We're environmental nerds.
We have experience designing to LEED, NetZero, & EnergyPlus standards
(including Passive Houses). Currently, we're excited about the possibilities of straw as a carbon-sequestering building insulation.
The
Straw House
, a tiny house made using Croft's pre-fabricated, carbon-sequestering, compressed-straw building panels. ︎︎︎
We have an "off-the-shelf" mentality.
Sometimes a large, custom window is worth it! But sometimes, a slight adjustment that allows for the use of a standard product saves money without sacrificing quality.
This value-conscious ethos permeates our decision making.
In one unusual case, we reused a large window the owner found on site to open up a new view to the lake, at the
House with a Curved Stair
. ︎︎︎
You won't wonder: "what's happening with my project?"
We're proactive communicators! Beyond typical project correspondence, we send a weekly summary with progress updates, key decisions, open items, and next steps.
We'll guide you through the complicated process of construction
, while keeping track of your requests & our conversations.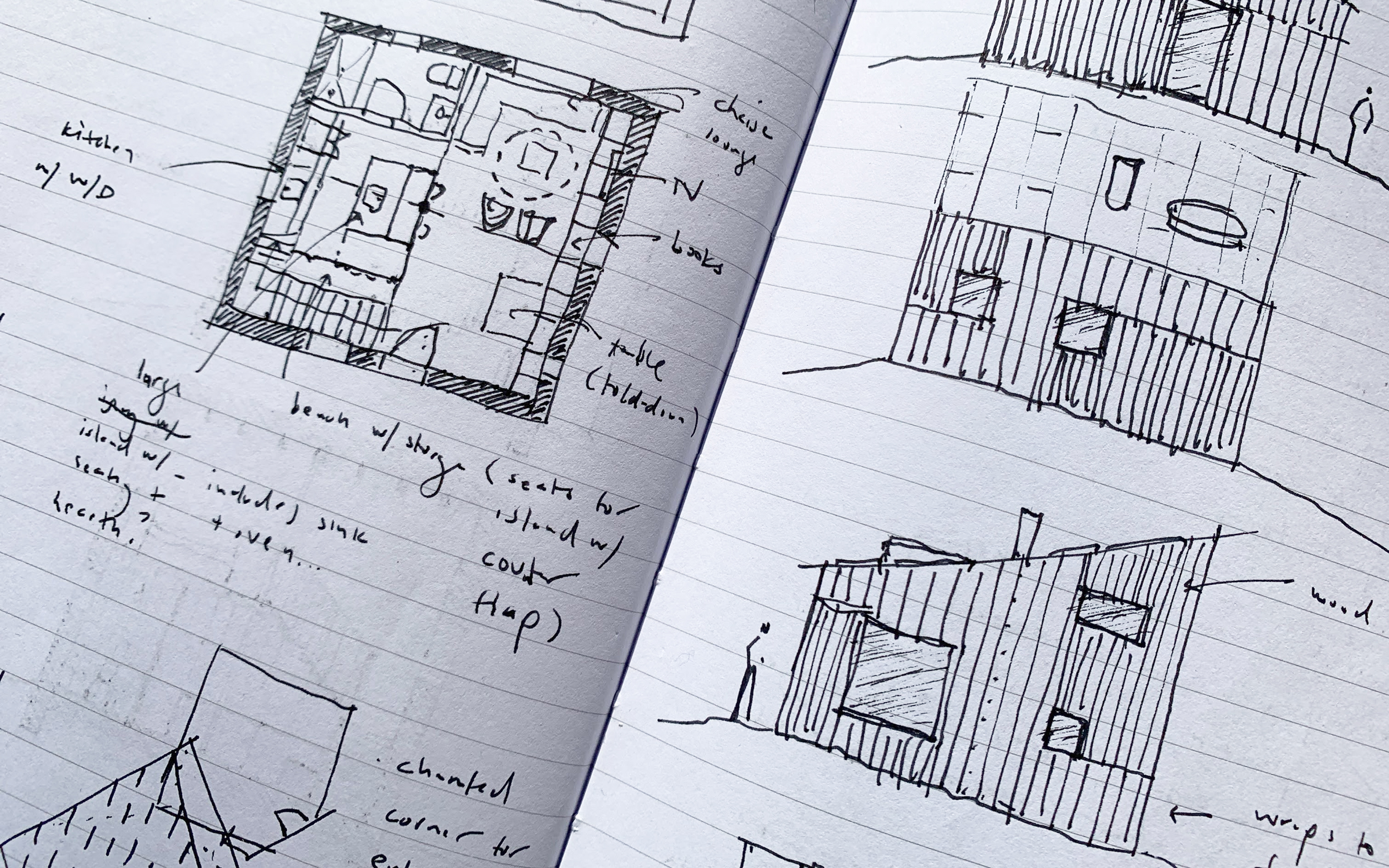 We like good ideas.
If someone else's idea is better than what we proposed, we incorporate it.
Whether that's a client's tweak, a consultant's advice, or a contractor's suggestion, we weigh the merits, discuss them with our client, and move forward as a team.
Early sketches for a tiny house project in Maine. ︎︎︎
We're team players.
We respect contractors & consultants and we have good relationships with them.
Every contractor we've worked with has referred us to future work.
Through this, we've developed contacts that help our clients get fair pricing and good service.
We value equity.
Primary Projects is a proud member of:
The Design Advocates home page. ︎︎︎